Catholic Campaign for Human Development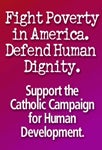 The Catholic Campaign for Human Development is the domestic anti-poverty, social justice program of the U.S. Catholic bishops. Its mission is to address the root causes of poverty in America through promotion and support of community-controlled, self-help organizations and through transformative education.
CCHD operates out of the Catholic Social Action office, and it is supported by an Archdiocesan CCHD Committee that consists of parishioners from across the archdiocese. The purpose of CCHD efforts in the Archdiocese is two-fold. We seek to:
Educate parishioners about poverty in the U.S. and equip them to work for change, and
Fund groups in the archdiocese who are working to end poverty. We fund groups through the donations you make to the CCHD collection which takes place at your parish the weekend before Thanksgiving.
Are you an organization interested in potential CCHD funding?
Click here to access the application, criteria, and instructions.
Archbishop Dennis Schnurr: CCHD is  "building a new reality reflective of the Kingdom of God."
In his appeal letter this year, Archbishop Dennis Schnurr asks that we follow Pope Francis' call to "enter into the reality of other people's lives" and walk with them on the journey to break the cycle of poverty.  All parishioners in the Archdiocese can help us in this challenge by contributing to the annual CCHD Collection on November 22-23, 2014.  
Archbishop Dennis Schnurr's Letter for the 2014 CCHD Collection
Last year, CCHD-funded organizations directly helped over 3.500 low-income individuals through employment, job skills training, critical educational opportunities, and leadership training.  This includes:
· 42 people gained employment
· 61 people received job training
· 66 youth mentored younger children
· 170 people advanced in education
· 728 youth attended educational programs or leadership and advocacy trainings
· 895 adult individuals obtained life skills, leadership, and advocacy training
· $27,000 in stolen wages were won back
· $280,000 in public service dollars
committed to low-income
communities
The State of Poverty in the Archdiocese
Across the 19-counties of the Archdiocese of Cincinnati, about 1 in every 8 people live in poverty.  In our urban counties, it can be about 1 in every 7; and in some rural counties, it can be 1 in nearly every 4!  The Glenmary Research Center has prepared this informative snapshot of certain demographic characteristics of the Archdiocese, including age, race, poverty, household income, and religious characteristics.  View their report here. 
2014 – 2015 CCHD Funded Groups in the Archdiocese of Cincinnati
Click here to view what our locally funded groups are setting out to do this year!
Your 2013 – 2014 Dollars Are Making Change!
Want to know what your CCHD donations accomplished?  Check out this list of accomplishments from 2013-2014.
Also, click here to read this wonderful story by the National Catholic Rural Life Conference on one of our 2011-2012 local CCHD grantees, The Good Samaritan Home!  Located in Greenville, this project will work with the nearly 100 men and women on parole in Darke County, in partnership with the Ohio Department of Correction and Rehabilitation, to help ex-offenders reenter as productive members of the community.